28 servings
Easy to chew gummy
Collagen+ Hair, Skin & Nails
Our delicious Hair, Skin & Nails stacks contain a blend of high-impact ingredients, including Ovoderm® collagen, clinically proven to promote healthy hair, skin, and nails and keep the skin hydrated.
Orders are made fresh, please allow up to 10 days for your order to arrive.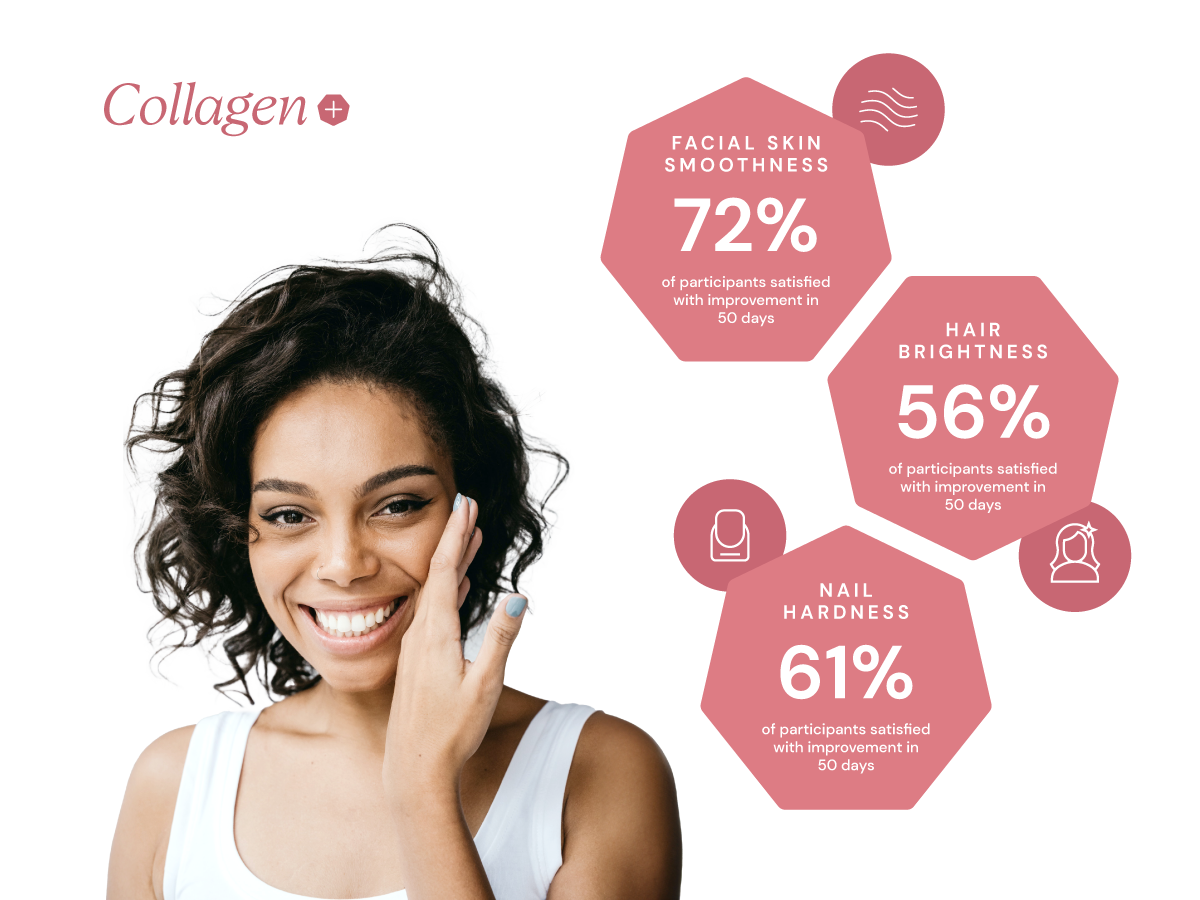 "Delicious & Effective. My skin got more elastic and smooth after taking this stack. Super tasty too!" - Nourished Customer 
- Nourished Customer ** Based on consumer testing between April & May 2023.
In each stack
Shown to improve skin elasticity and firmness in just 60 days.
Nutritional Facts | Clinical Studies
Biotin
Biotin contributes to the maintenance of normal hair.
Biotin contributes to the maintenance of normal skin.
55mcg per serving
Delicious & fruity gummy

Often has a unpleasant taste

Freshly made, providing up to 99.5% efficacy levels

Long supply chains resulting in lower than stated efficacy levels

Sugar-free & vegetarian

Usually sourced from fish or animals

Scientifically-backed ingredients

Can sometimes lack scientific studies

Contains Ovoderm® - clinically proven health benefits at only 300mg

Often requires a dosage of 2000mg –8000mg

Ethically & sustainability sourced

Can sometimes be linked to deforestation
Great Taste
With 95% of customers rating the appearance of the stacks 4 & 5 stars! 
£1.42 per day
With 93% of customers rating the convenience of the stacks 5 stars! 
Scientifically-backed ingredients
With 93% of customers rating the ingredients included within Collagen+ as 4 & 5 stars**.
Frequently asked questions
What is our collagen made from?
Our Nourished Collagen+ contains Ovoderm®, a high-impact vegetarian source of collagen consisting of over 400 proteins, Collagen I, V & X, Glucosamine, Elastin and Hyaluronic acid. Ovoderm is sourced from upcycled eggshells.By using upcycled eggshells, Ovoderm® minimises waste, reduces pollution, and provides multiple health benefits for skincare and joint health.
Why is collagen important?
Collagen, a vital protein found in the human body, plays a key role in cell cohesion and serves as a building block within connective tissues. As we age, the natural levels of collagen in our bodies start to diminish, leading to visible signs of ageing in the skin. This decline typically begins around the late 20s, and collagen production continues to decrease significantly each year thereafter.
This is why Nourished Collagen+ is important, being a multi source of collagen, but also contributing to normal natural collagen formation, supporting overall skin health and vitality.
Why vegetarian collagen?
Nourished Collagen+ stands out with its use of Ovoderm, a remarkable source of vegetarian collagen that offers numerous clinically proven health benefits. Unlike other marine-based collagens, Ovoderm provides a tastier and higher-quality alternative.
How much collagen do we include in our stacks?
You only need to consume a daily dose of 300mg of Ovoderm® to maximise the potential health benefits. This is significantly lower than other collagen products on the market as it contains over 400 proteins and retains its structure through a premium extraction method, making it a more effective and efficient option for your daily routine.
When should you take Nourished Collagen?
Only one stack of Nourished Collagen+ per day is needed to receive the listed potential health benefits above. Our stacks are carefully designed with convenience in mind, as they come individually wrapped in home compostable packaging. Over 93% of our customers have rated our Collagen+ range 5 stars for its convenience.*
*Based on consumer testing between April & May 2023.