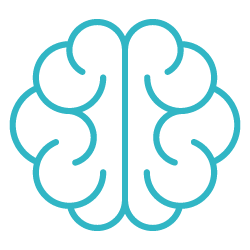 The Brainiac Stack
A super charged blend designed to help improve focus and cognitive function, this unique stack is packed with 11 essential vitamins, minerals and nutrients. Contains x28 nutrient gummies, coated in a delicious and sugar-free, sweet pineapple flavour. Recommended to be taken daily.
Supports Cognitive Function
Supports Brain Health
Boosts Focus & Memory
Orders are made fresh, please allow up to 7 days for your order to arrive.
3D Printed, Sugar-Free Gummy Vitamins
Designed to help support the health and wellbeing in your day-to-day lifestyle, every Nourished stack is freshly made-to-order. Using our 3D printing technology, we pack 7 layers of goodness into each gummy vitamin, before delivering them directly to your door in plastic free, recyclable packaging.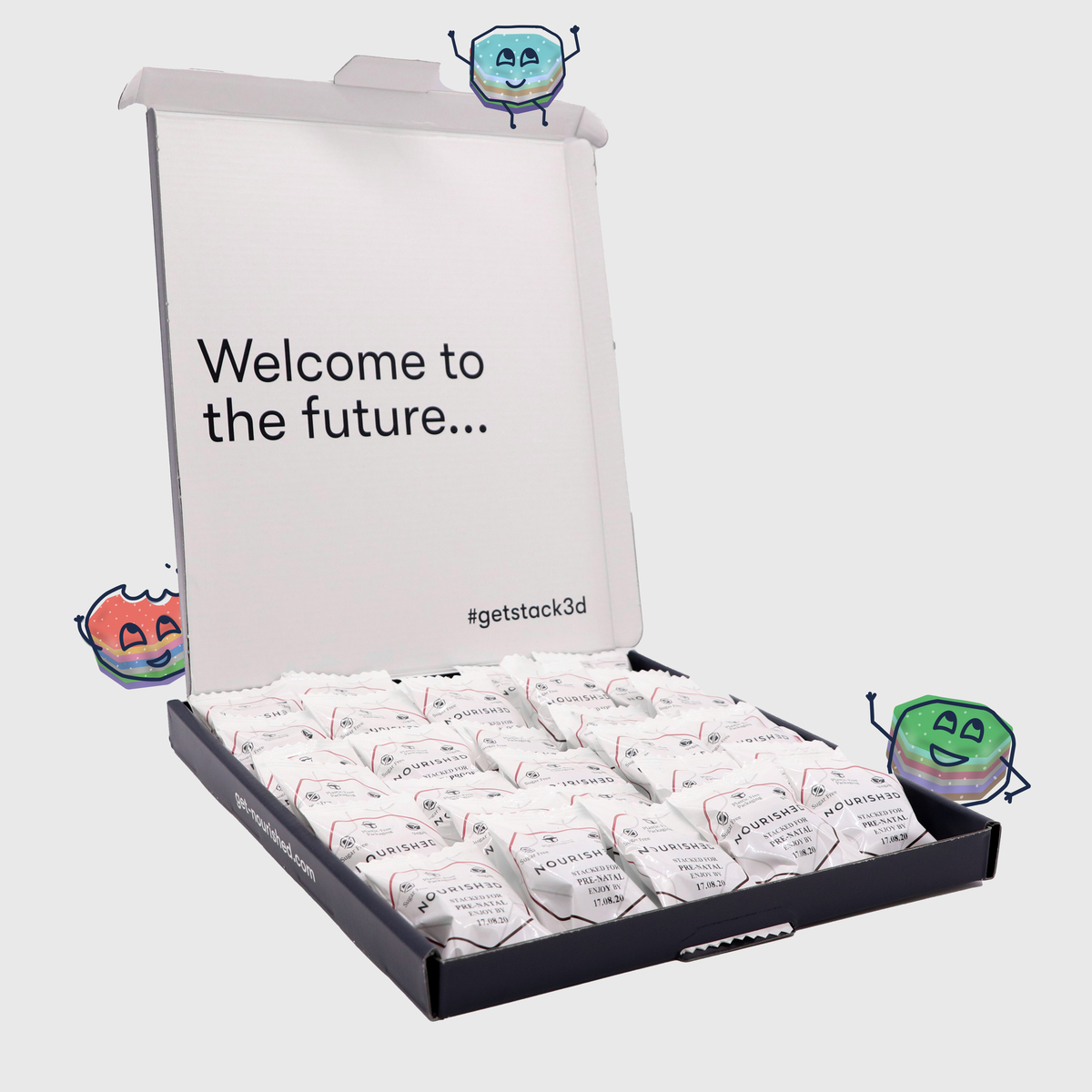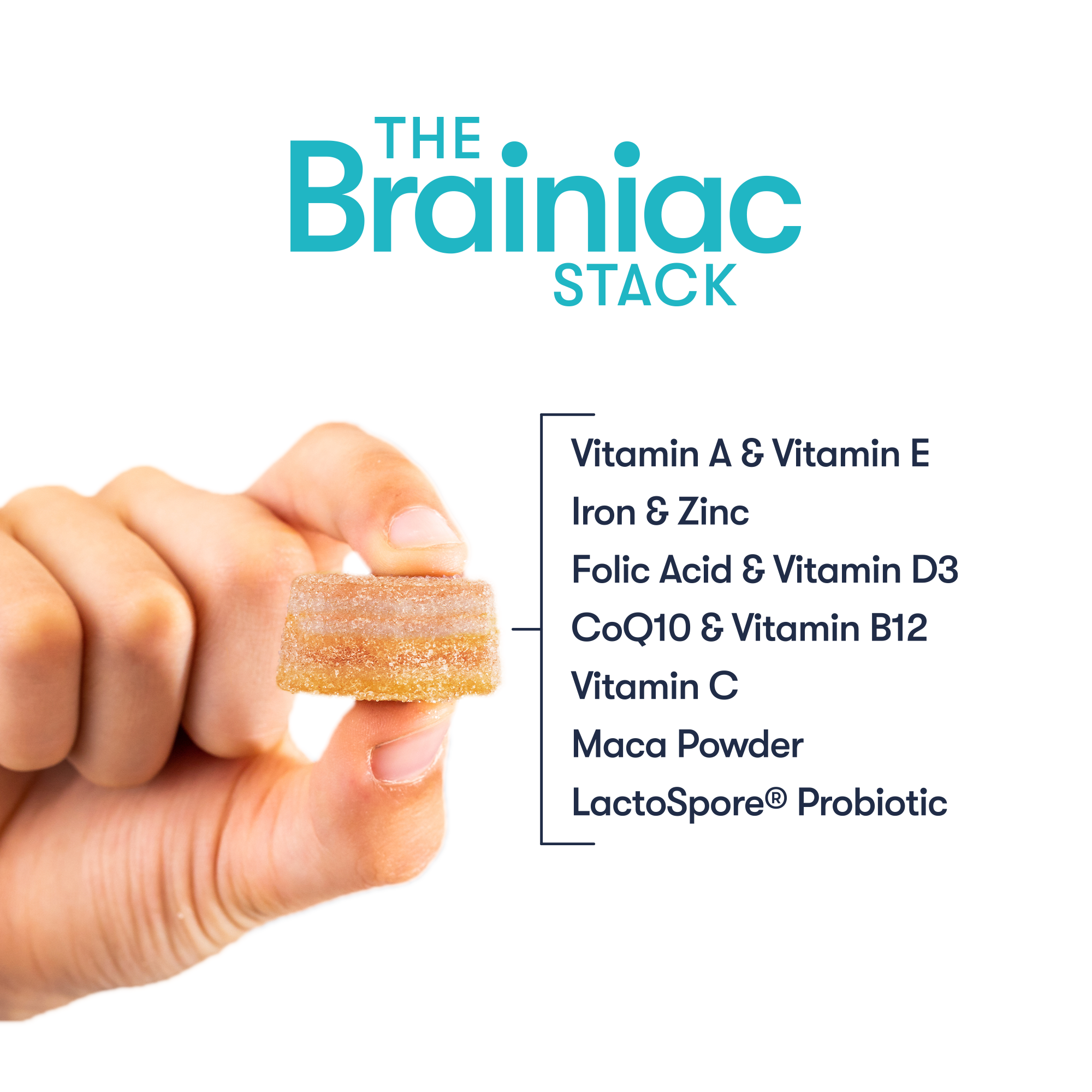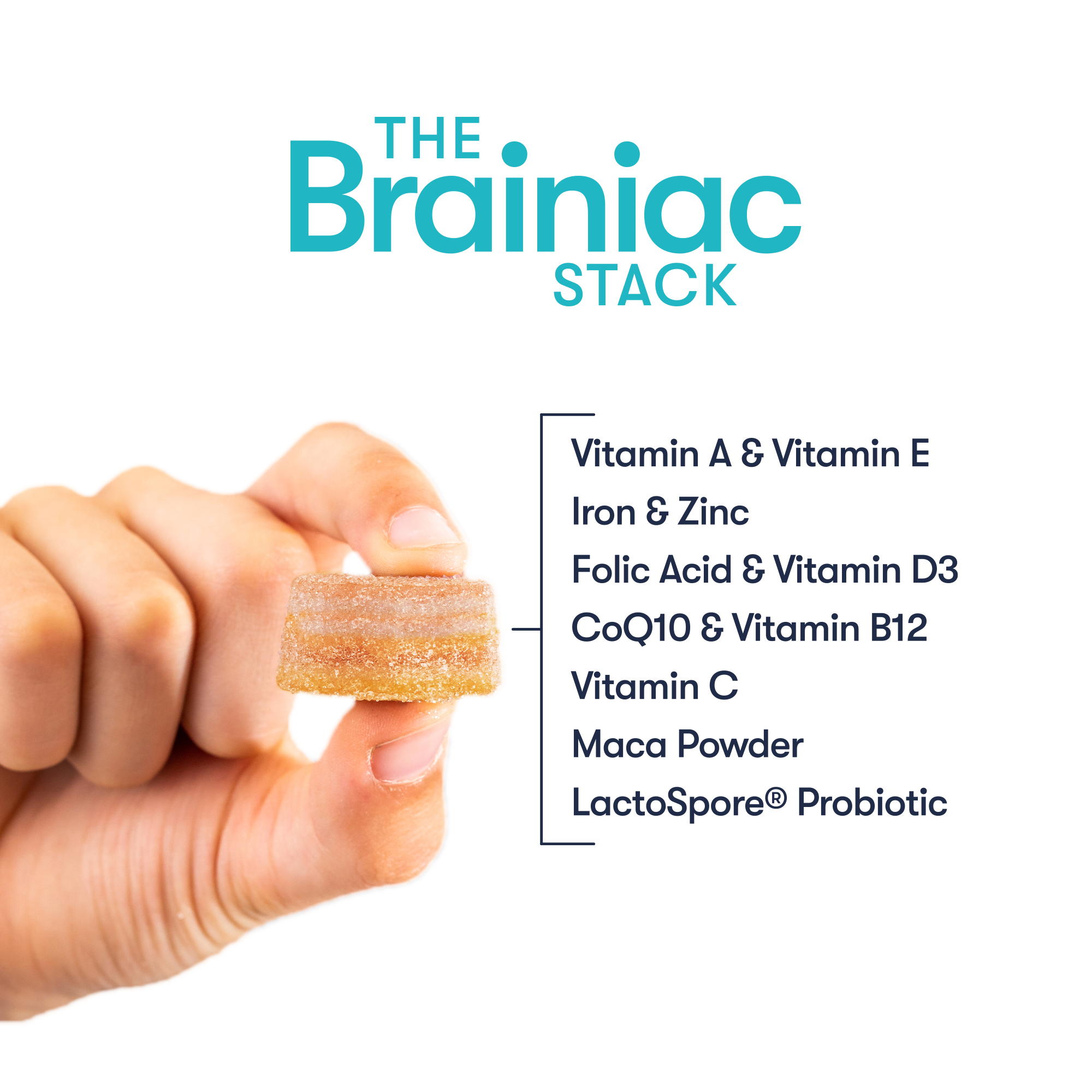 In each stack.
Vitamin A is essential for supporting and protecting healthy eyes
Vitamin E supports healthy DNA, whilst protecting against oxidative damage
Vitamin A: 800mcg per serving
Vitamin E: 12mg per serving
Iron helps support healthy cognitive development
Iron contributes to the normal function of immune system
Zinc is a vital micronutrient to help support immune system
Zinc helps strengthen bones, hair, skin and nails
Iron: 6mg per serving
Zinc: 5mg per serving
Folic Acid encourages healthy cell and tissue growth
Folic Acid is important for converting food into energy
Vitamin D3 supports the normal growth and development of bones and teeth
Vitamin D3 is great for supporting with mood regulation
Folic Acid: 200mcg per serving
Vitamin D3: 150IU per serving
CoQ10 is naturally rich in antioxidants
CoQ10 helps maintain a healthy nervous system
CoQ10 has been shown to protect against heart disease
Vitamin B12 helps promote and maintain healthy energy levels
Vitamin B12 helps support cardiovascular health
CoQ10: 15mg per serving
Vitamin B12: 1.875mg per serving
Essential support for the immune system
Provides protection of DNA, proteins & lipids from oxidative damage
Helps maintain healthy bones, teeth and cartilage
48mg per serving
Helps strengthen natural immune system
Powerful support for gut health & digestion
Enhances absorption of nutrients
200 Million CFU per serving
Helps support cognitive function & concentration
Supports natural immune system
Great for maintaining healthy cardiovascular system
50mg per serving
High Efficacy & Absorption
Nourished super nutrient stacks are made fresh to order and we guarantee at least 99.5% efficacy on all of our products so you can trust that you are getting the maximum benefit and impact of the nutrients inside. In addition, all of our gummy stacks are made with a patented vegan gel delivery system, allowing for a higher-bioavailability of the actives inside and allowing them to be delivered into the bloodstream, up to 5x faster than pills or capsules.

Learn More